Complete recalls instantly for a more effective HACCP plan
Bakery Software for Lot Tracking

Use FlexiBake ERP's lot tracking module for a simple solution to make product recalls and traceability fast and easy.
With the lot tracking module in FlexiBake bakery software, data can be mined for instant recall information. Trace every lot code or batch number from the moment materials are received, baked in production, and when the finished product is sent out the door.
Do a recall based on supplier's codes and receiving slips or your own batch numbers and product codes. Instantly check the inventory on hand, work in progress that contains those materials, and products that were produced with each ingredient. Create a report with a list of customers that need to be contacted, without having to search through days of data. With stricter government regulations lot codes and batch tracking are required to setup HACCP plans and comply with regulations like the FSMA as well as BRC and ISO certifications.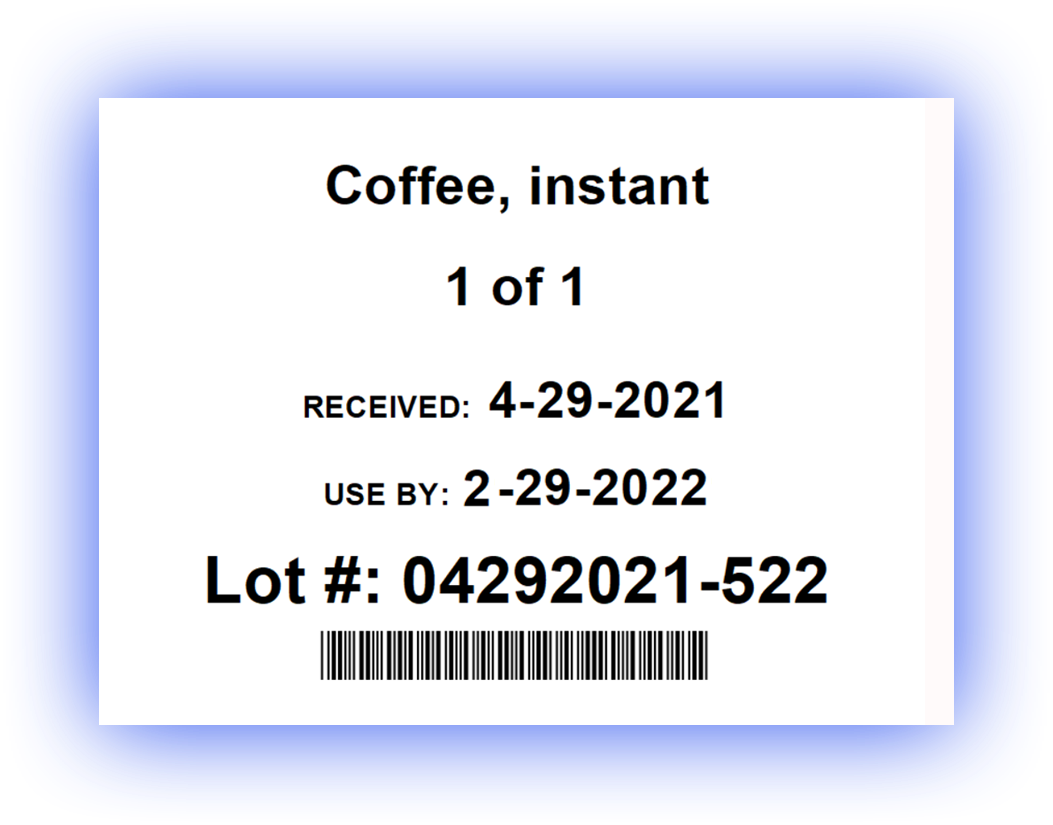 Assist production staff with lot coded tags for ingredients.
Peel and stick tags to ensure that correct materials are used in a FIFO order.
Instantly print lot coded tags to label each box of raw materials. Use these tags to ensure that pickers and production staff have access to helpful information so that the correct materials are used in a FIFO order. Bakeries that require product tracking must record all supplier lot numbers. For those who would rather use a date stamp for their tags, FlexiBake can produce Julian Date codes for materials received.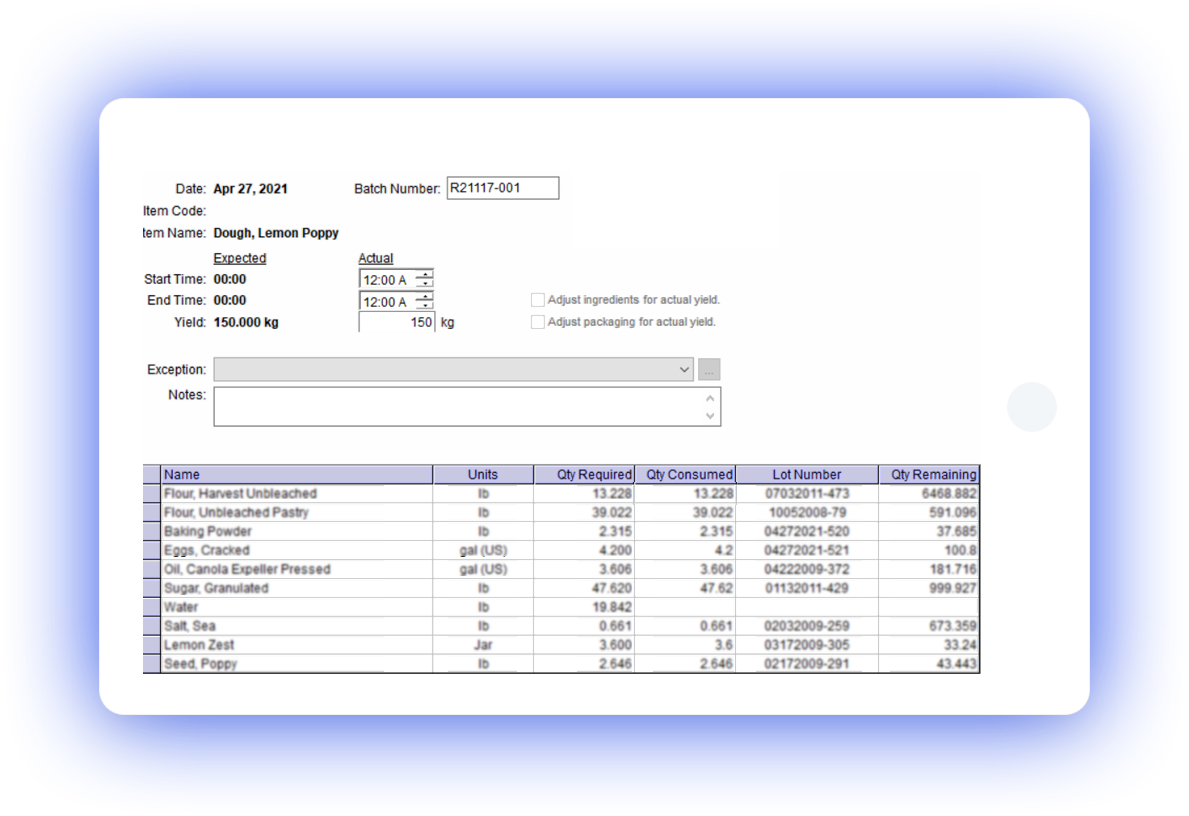 Save time with FIFO ingredient consumption.
Use an automatic first in, first out procedure, with the option to adjust.
FlexiBake makes lot tracking, traceability, and product recalls simple with the option to auto allocate ingredients and products. During production and shipping, use an automatic first in, first out procedure, with the option to adjust. Compare expected versus actual lot numbers used in production. Discover where some shifts or teams may require training, point out inventory variances or other hidden challenges.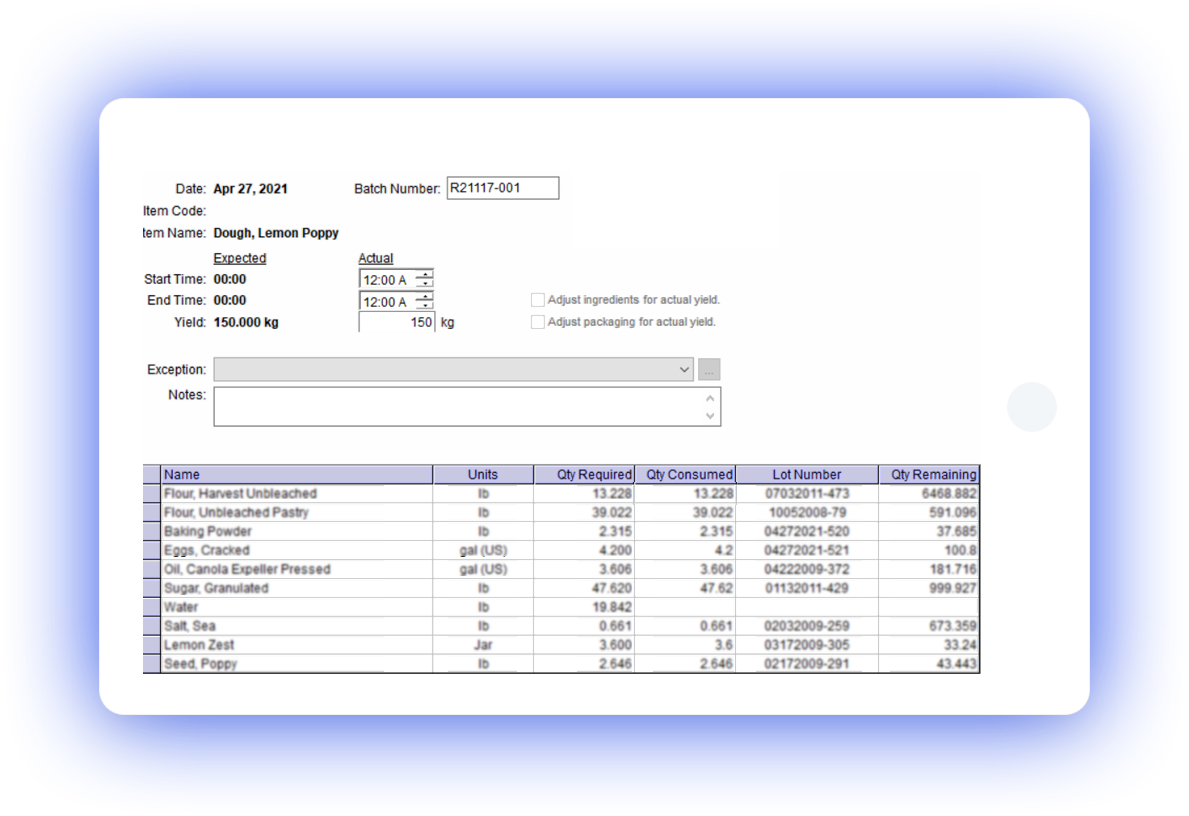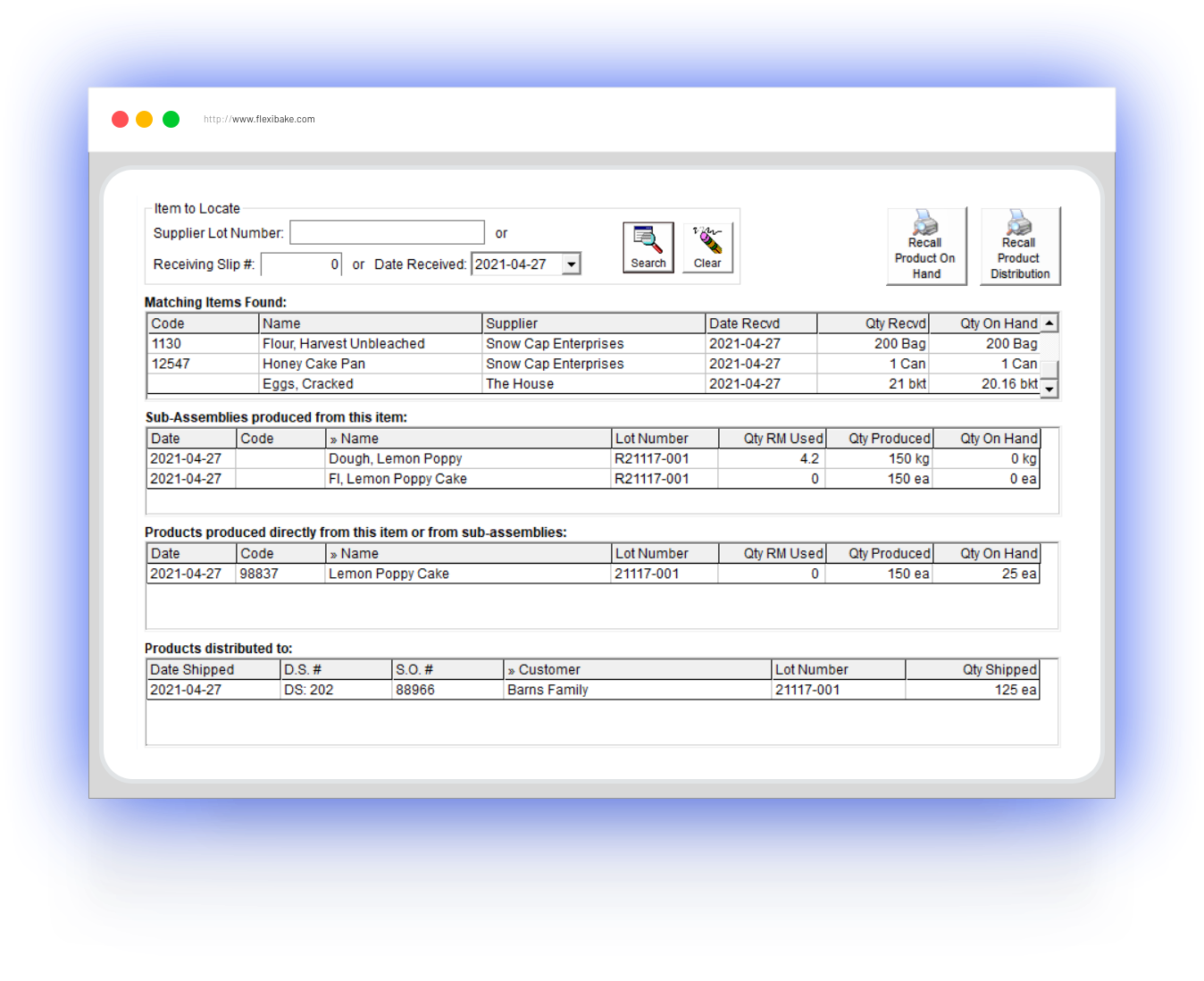 Trace and remove all inventory to avoid further contamination.
The recall function creates a list of raw materials and products still on hand containing recalled ingredients.
In the case of a recall, it is important to inform customers right away. It is just as important to take material off the shelves to avoid further contamination. FlexiBake's recall function easily creates a list of raw materials and products that are still on hand, it's clear what needs to be removed from inventory. Use the recall module with inventory adjustment slips for complete lot code or batch tracking.
Work orders track each step in the baking process.
Record the lot code or batch numbers that are consumed during each step of production.
A detailed work order allows bakers to record the lot code or batch numbers that are consumed during each step of production.  Add additional details and instructions for the baking process or create templates for staff to fill out before handing in. As completed work orders are received, check for variances against FlexiBake's expectations and close production to confirm true lot tracking.

It used to take us over an hour to run our production, but with FlexiBake it takes less than 10 minutes to run all reports! The online portal is a game changer for us and our customers.
H&F Bread Co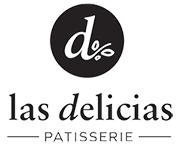 We have moved from a collection of spreadsheets to a different way of running the business, all areas now integrated and updated in real time.
Las Delicias
The support and customer service teams have been phenomenal training us and helping us use the software efficiently and effectively.
Serrvatii Pastry Shop & Deli
Easy to use apps to manage your bakery
Industry leading ERP software and apps to grow and run your wholesale bakery efficiently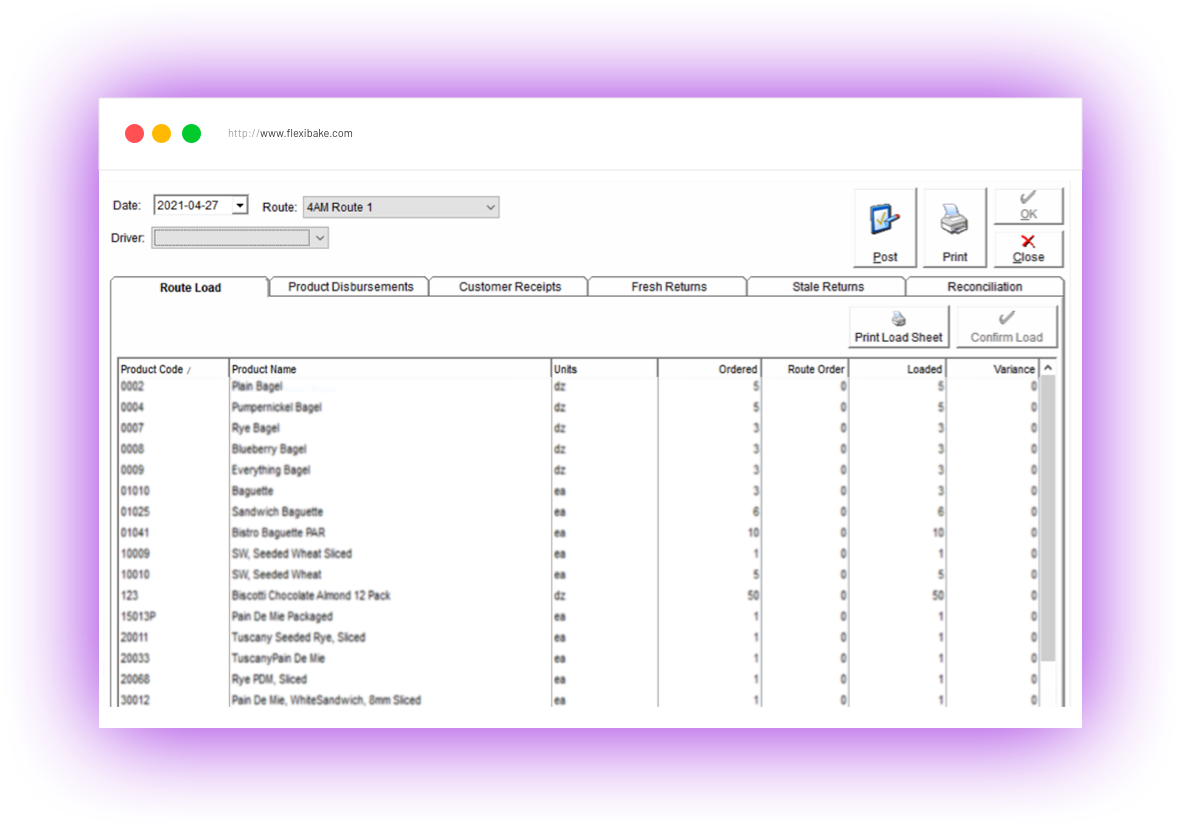 Quickly reconcile routes from one screen.
Enter all details pertaining to your day's deliveries on one screen rather than going through each route delivery slip individually.
Manage guaranteed sales with FlexiBake's Route Reconciliation module by recording returns and deliveries on one easy to use screen. There is no need to go through each route delivery slip individually as information added in the Route Reconciliation module will automatically update throughout the system.
Use key metrics with analysis tools for informed decision making.