Manage multiple facilities and warehouses
Bakery Software for Warehouse Management

Simple yet powerful features to manage multiple storage areas and warehouses. Keep on top of product tracking, inventory transfers, and improve your bakery's turnaround time.
The bakery software warehousing module is perfect for bakeries that need inventory transferred between more than one location.
Easily ship and transfer inventory between warehouses or storage areas. Study key information about storage locations and create in depth reports for each. Turn on the inventory lot tracking features to get updates about where the product is being stored.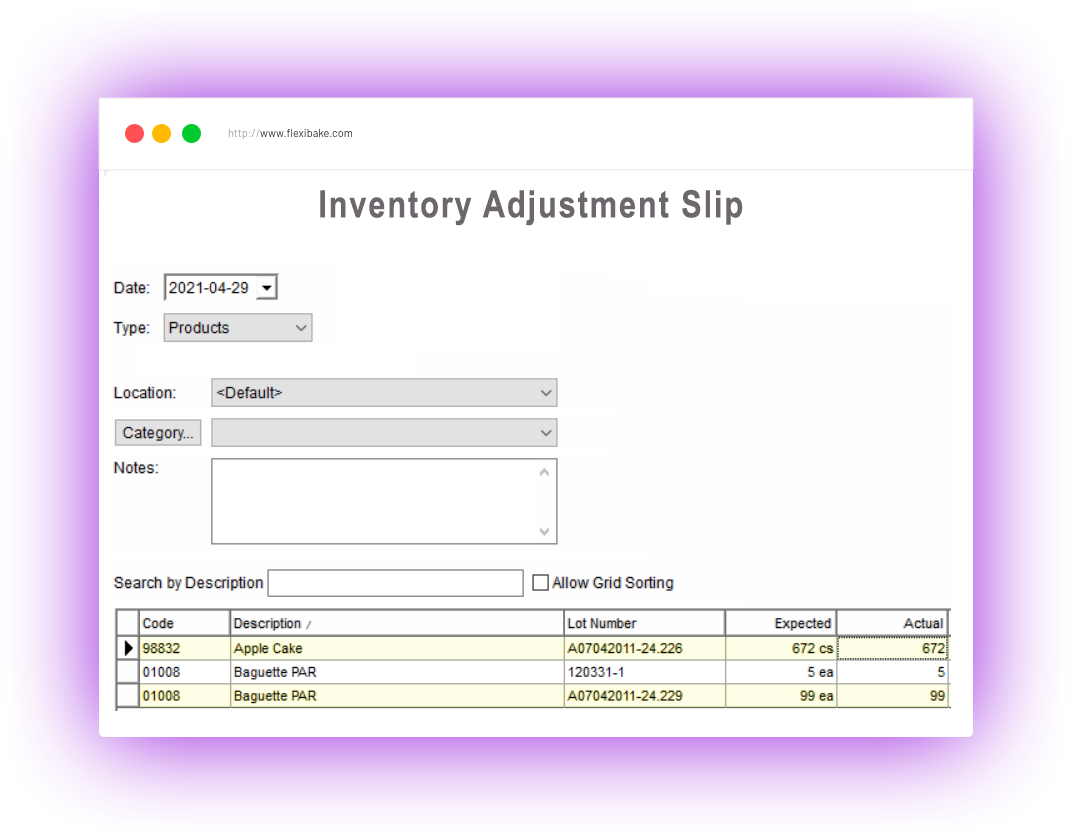 Real-time inventory levels at remote warehouses.
Instantly find raw materials on hand, products produced, and where they are stored.
Pull real-time data on inventory levels for any location at any time. Instantly know what raw materials are on hand, products that have been produced, and where everything is stored in the warehouse. Shipping and production decisions are easy to handle when there is detailed control and purchasing information.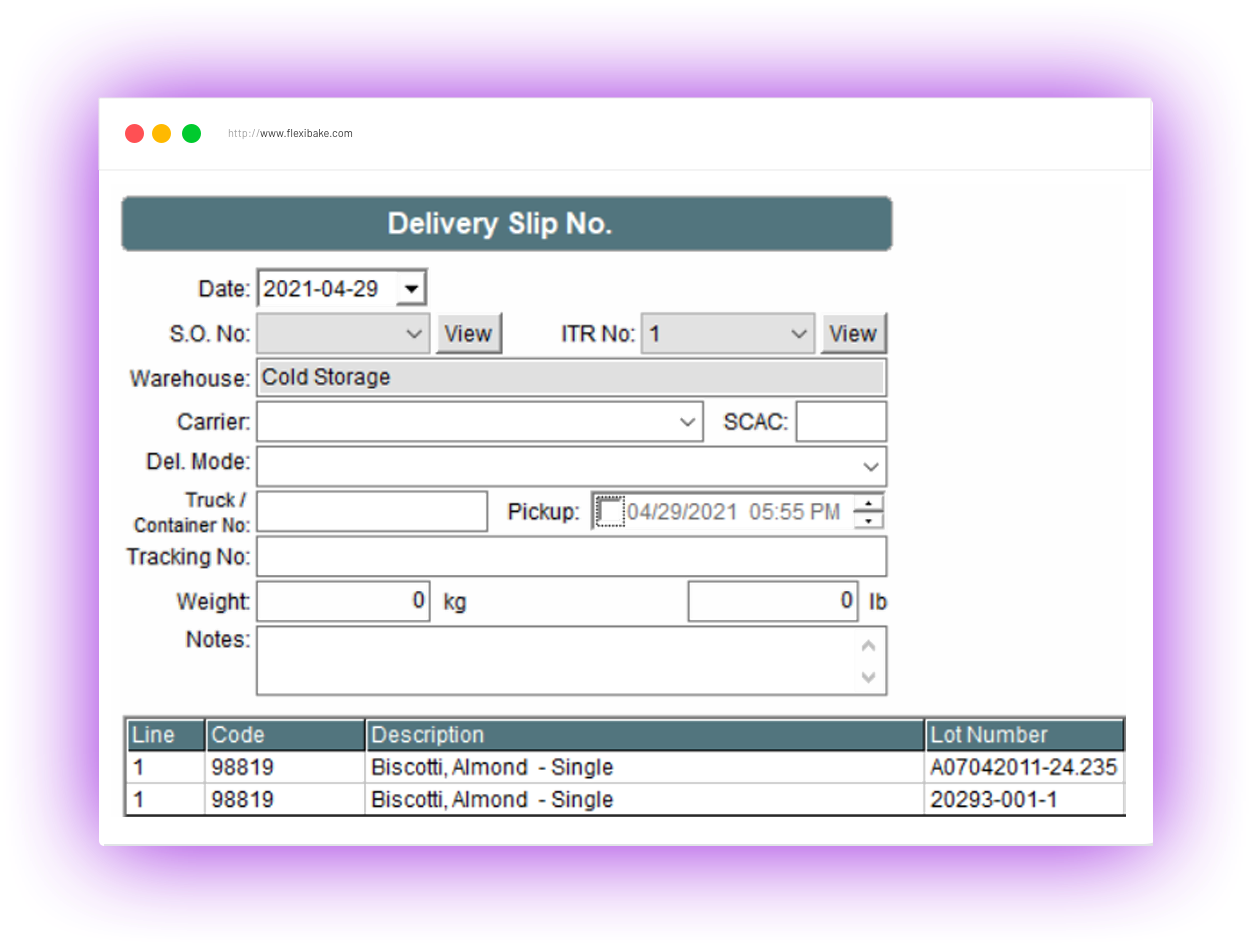 Tools to track and manage inventory transfers.
Know exactly where your raw materials are through production, packing, and shipping using detailed reports.
Receive raw materials into the correct warehouse to keep your inventory up to date. Use inventory transfers to make sure each warehouse has enough raw material to satisfy production. Inventory transfers also keep your finished stock in the best location for shipping. Materials and products are tracked with multiple reports all the way through production, picking, and shipping. Instantly search your inventory using a lot number, batch number, item number, or an exact warehouse location.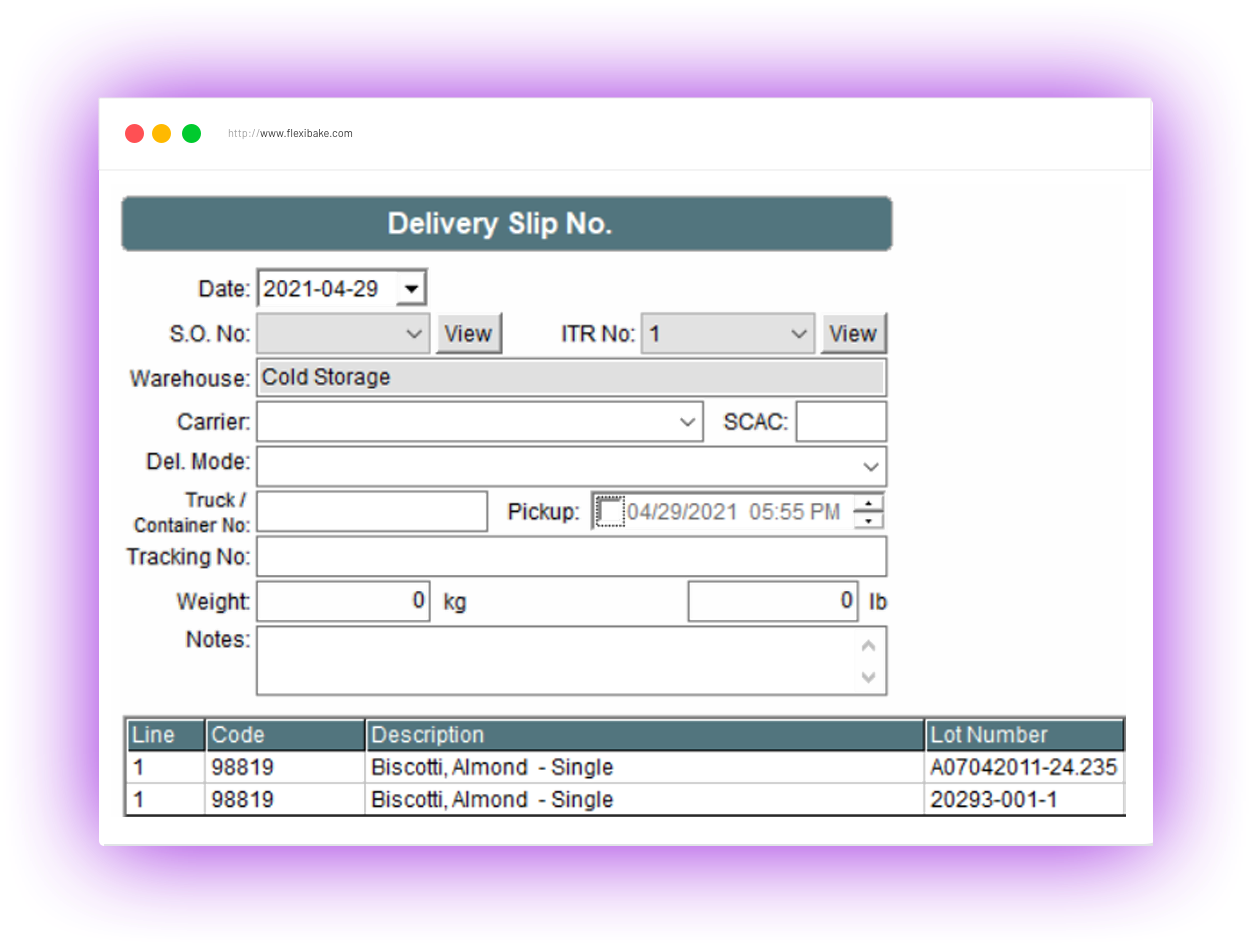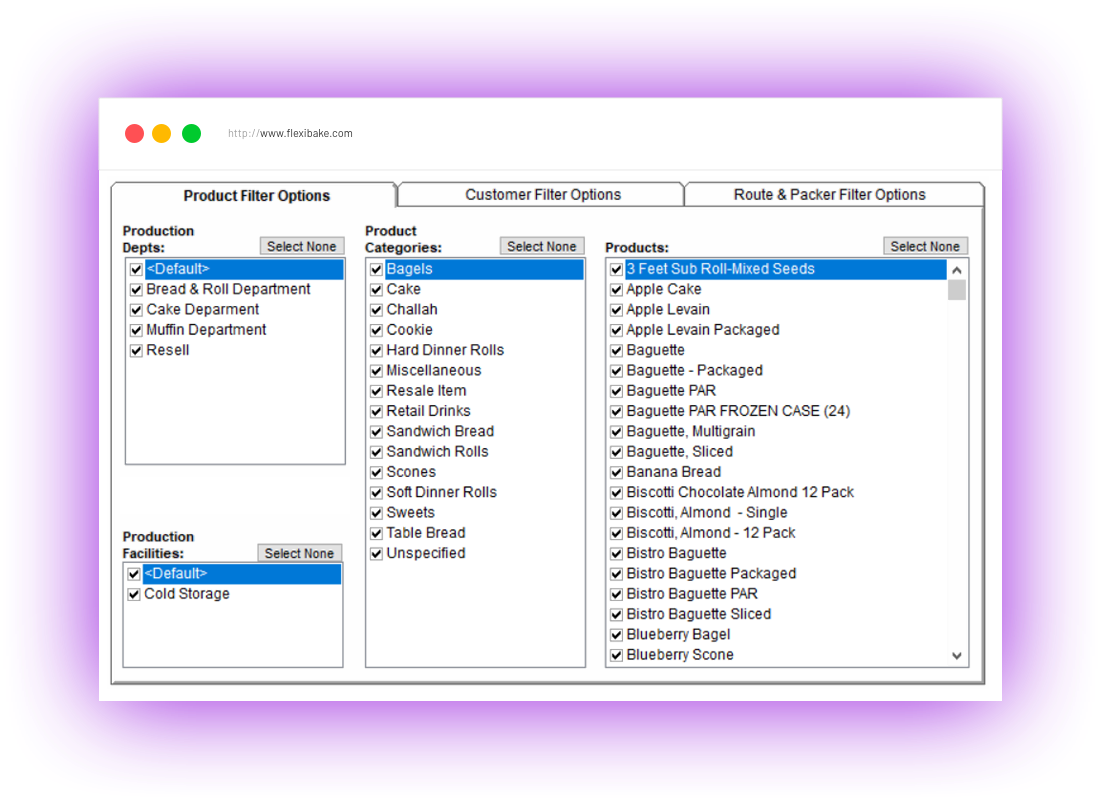 Use detailed report filters to find inventory information quickly.
Track materials and review key metrics in each location to view trends and capitalize on opportunities.
You are in complete control of your storage locations. Track materials and packaging using FlexiBake's detailed reporting features. Measure and review key metrics in each location by using filters such as product categories and date ranges to drill down on supply chain performance. View trends and help your management team make informed warehousing decisions.
Manage and store excess inventory at multiple locations.
Streamline departments and operations with up to the minute information on inventory, shipping, and current production.
During production you may need to prepare for large orders that are coming up. In this situation many bakeries tend to ship excess inventory to other locations. It becomes very easy to forget what inventory you have and what still needs to be produced. Organize production and warehouses by reviewing up to the minute information on inventory, shipping, and current production.
Fulfill orders from remote warehouses to improve turnaround.
Easily view warehouse inventory to make informed decisions when shipping to customers. Create picklists and reports to assist with a faster shipping process.
Ship orders from multiple locations to help customers receive their orders on time. Use several reports to find out which products are in inventory at each warehouse location. Choose to ship from the warehouse closest to your customer. Create picklists and reports to help speed up the shipping process.
Instant lot tracking and recalls across all locations.
Track all supplier, recipe, and product lot numbers to meet government regulations such as the Food Safety Modernization Act and HACCP.
Monitor and stay compliant in every location with one central system. Track all supplier, recipe, and product lot numbers for complete lot tracking and traceability. FlexiBake's tools and reports makes sure that first in first out is being followed during production and shipping

It used to take us over an hour to run our production, but with FlexiBake it takes less than 10 minutes to run all reports! The online portal is a game changer for us and our customers.
H&F Bread Co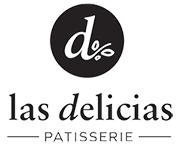 We have moved from a collection of spreadsheets to a different way of running the business, all areas now integrated and updated in real time.
Las Delicias
The support and customer service teams have been phenomenal training us and helping us use the software efficiently and effectively.
Serrvatii Pastry Shop & Deli