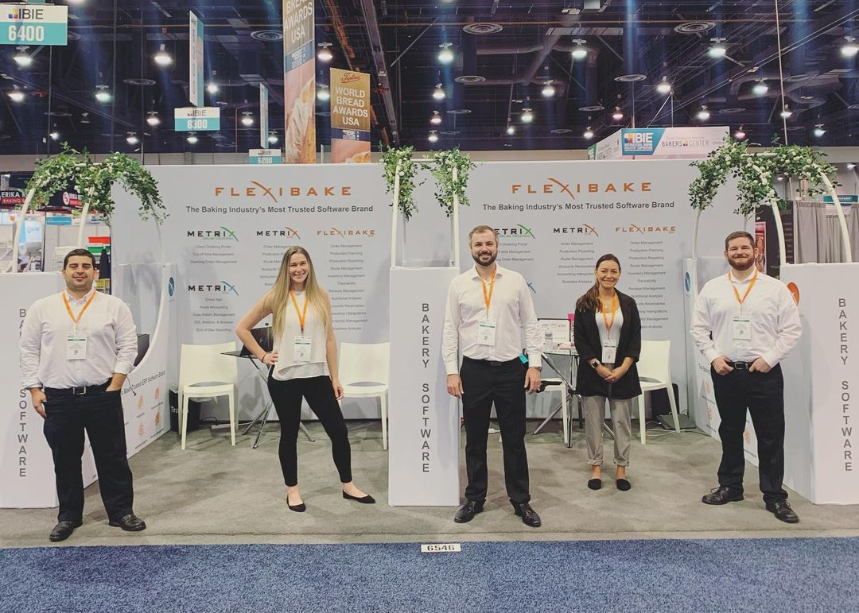 IBIE 2022 was exciting, invigorating, and the FlexiBake Team was busier than ever!
We hope you all had a chance to visit our team at the FlexiBake IBIE 2022 booth, above is a photo of the team members representing FlexiBake. As the craziness of the show starts to wind down, exhibitors and attendees alike settle back into every day life for just a few weeks before the holiday season truly begins.
Here is a short recap of what was going on at FlexiBake's booth during the four day event in Las Vegas:
Day 1 – Receiving our award
Before the show even began, our team was presented with our B.E.S.T. In Baking award! The first day is always a busy one, we had a ton of customers stop by our booth to say hello and the amount of positive feedback we heard from each and every one was fantastic! Our team on the floor was busy non-stop with many on-site demonstrations of our bakery software, meetings, and presentations. We had our champagne toast to our newest product, MetriX Lite. By the end of Day 1 our team was buzzing with excitement and looking forward to what was in store for Day 2.
Day 2 – MetriX Lite is revealed
The second day was even busier than the first and the team started bright and early with onsite demonstrations. We began demonstrating our newest app, MetriX Lite which was released in August 2022. The feedback we received on the new app was great, with the sleek interface, comprehensive toolset, and low price-point, people were excited to sign up online!
Day 3 – Lot tracking competition
Usually on the third day the show starts to slow down, but not this year. It was another busy day, but we were able to find time for our lot tracking competition! The competition started out with two team members documenting their bakery production process and ended with a recall.
The team member who used FlexiBake was able to receive a raw material, schedule and close production, and pull all the data required for a full recall in less than 2 minutes.
The other team member, who was manually writing the information wasn't even able to receive the shipment in that time. Needless to say, it wasn't much of a competition. Automation always wins!
Day 4 – Wrap Up
The last day at IBIE was bitter sweet, we still had lots of interested people visiting right up until the end of the day. Packing up our booth and leaving for good at the end of the day was hard as we had met so many wonderful people and become very comfortable in our cozy booth. Since returning to our Vancouver office, we've been able to share all our great stories with the rest of the team and everyone is very excited to see what comes from the successes at IBIE 2022.
Thank you so much to all who visited us, we hope to hear from all of you soon!
The FlexiBake IBIE 2022 Team